Our process
We follow a 6-step process to source information on the private sector's role in the COVID-19 response and curate it in a way that can be used by countries to engage their private sector for the delivery of COVID-19 vaccines, diagnostics, therapeutics, PPE, and oxygen.
Please use the form below to request access to the online Zotero library of resources for generating citations and bibliographies.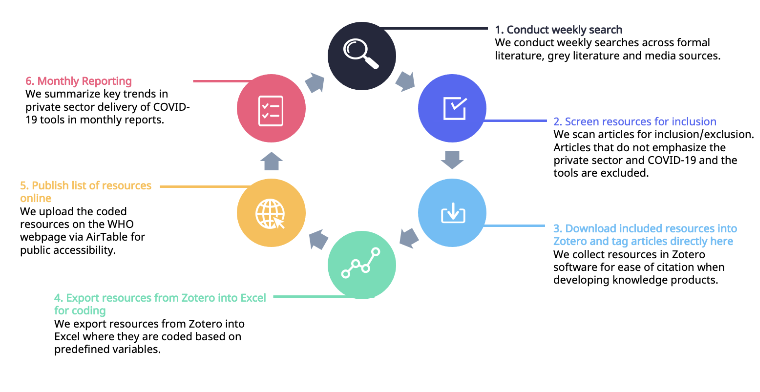 Our variables
Variable
Scope
COVID-19 Tool

Vaccine: distribution of COVID-19 vaccines and rolling out of COVID-19 immunization campaigns.

Diagnostics: development of COVID-19 testing kits and conducting related diagnostic activities.

Therapeutics: development of drugs and medication for COVID-19.

PPE: procurement and distribution of personal protective equipment for COVID-19 including masks,  loves, sanitizers, etc.

Oxygen: supply of oxygen and ventilators needed for critical COVID-19 patients.

Health System Function

Governance: policy, stakeholder voice, information and regulation.

Financing: revenue raising, pooling, and purchasing.

Resource generation: health workforce, infrastructure and medical equipment and pharmaceuticals.

Service Delivery: service delivery within public health, primary care and specialist care (including telemedicine and digital health).