The Clearing House searches for, selects, and categorizes published articles and media on the role of the private sector in health. The clearing house is currently focused on the delivery of  COVID-19 vaccines, diagnostics, therapeutics, PPE and oxygen, and aims to promote cross-country learning and share country experiences.
Over time the role of the clearing house will expand to provide information highlighting the needs and solutions for stronger health system governance and better public policy toward the private sector in health - notably to rebuild more resilient and better prepared health systems.
303
Total number of resources
44
Resources added in the past month
63
Total number of countries covered
The role of the private sector in the general response to COVID-19 and specifically in relation to vaccine distribution continue to be the leading topics of discussion among resources found this month (54% and 41% respectively).
Reflective of the pandemic stage the world is currently in, fewer articles focused on the private sector's role in the delivery of diagnostics (13%) and therapeutics (11%).
In relation to health system function, governance (48%) dominates the topic of discussion this month, followed closely by service delivery (37%)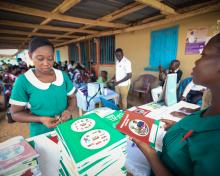 Governance Behavior Spotlight
Resources
Users may search these resources using variables such as type of COVID-19 tool (vaccines, diagnostics, therapeutics, oxygen, PPE), health system function (governance, health finance, service delivery, resource generation), private sector positioning (positive, negative, neutral), country and WHO region.
Feedback
Please contact us using the web form below if you have any feedback or if you would like to contribute a resource or collaborate with us.
Please note: this is an ongoing process of collating relevant resources and may not cover all resources available. Articles that do not give emphasis to the private sector and COVID-19 and the specific tools (i.e. vaccines, diagnostics, therapeutics, PPE and oxygen) have been excluded. The Clearing House collates resources, it is not intended to assess quality and / or content of the resources included, but rather to facilitate the gathering of published literature and media on the topic of engaging the private sector for the delivery of COVID19 tools.