Purpose Statement
COVID-19 has reinforced the need for a whole-of-society and whole-of-government approach to pandemic response. The pandemic has further exposed the need for robust governance of health systems. These efforts should facilitate market reliability and build trust between consumers and the health system.
Prior to COVID-19, the WHO developed a strategy, "Engaging the private health service delivery sector through governance in mixed health systems". Through application of this framework (Figure 1), we seek to distil insights on governance of the private sector in health to respond to emergencies and build equitable and resilient health systems. A resilient health system is understood as one that can effectively prevent, prepare for, respond, and adapt to public health emergencies while maintaining routine health systems functions.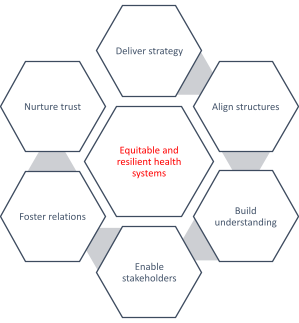 Research Questions
Research questions have been structured using the WHO governance behaviours.
| Governance behaviour | Research questions |
| --- | --- |
| Deliver strategy. Government sets the priorities, principles and values of the health system, defines how these will be translated into policy objectives, and the specific actions needed for achieving these. | How was the COVID-19 response plan and strategy defined and what processes informed this? |
| Align structures. Government recognises all state and non-state entities and resources in the health system and works to harness and coordinate those to achieve policy objectives. | How were public and private structures aligned and adapted for the COVID-19 response? |
| Build understanding. Government collects information in relation to all elements of healthcare provision, and ensures this is used in policy design, strategy development and planning. | What were the systems for data capture and how did these facilitate or hinder information exchange for the COVID-19 response? |
| Enable stakeholders. Government creates a policy framework that authorises and incentivises stakeholders to align their activities to the priorities, principles and values of the health system. | How were financing and regulatory systems deployed to authorize and incentivize health system stakeholders in the COVID-19 response? |
| Foster relations. Government establishes mechanisms for participation of all stakeholders in policy making. | What coordination arrangements were established and how did these facilitate or hinder sectoral engagement for the COVID-19 response? |
| Nurture trust. Government builds transparent, accountable and inclusive institutions at all levels. | How were competing and conflictive interests managed as part of the COVID-19 response? |
Feedback
Please contact us using the web form below if you have any feedback or if you would like to collaborate.